Garvies Point is proud to sponsor Downtown Sounds, a free outdoor concert series in Glen Cove. The festival takes place in Village Square (intersection of Glen and Bridge Streets). The rain location is Wunsch Arts Center, 1 Forest Avenue, Glen Cove. The music festival begins on July 1st. The free events will take place every Friday at 7:30 PM in July and August. Don't forget your lawn chairs and enjoy music under the stars.
Downtown Sounds 2017 Schedule
New York Bee Gees
Friday, July 7
The New York Bee Gees Tribute Show is comprised of some of Long Island New York's most versatile and exceptionally talented players. The band includes present or former members of well known, world renown acts including The Alan Parsons Project, Happy Together Tour, Meatloaf, Queen, Blue Oyster Cult, Riot, Herman's Hermits, Enrique Iglesias, The Rippingtons and more.
Kamellot with Misty Mountain
Friday, July 14
Kamellot started in 2012 and one can say that the blend of rock and blues is a holy mix of genres done masterfully by this group. The band pays tribute to classic rock tunes and many timeless hits; the stuff you can sing along to!
Soul Sound Revue
Friday, July 21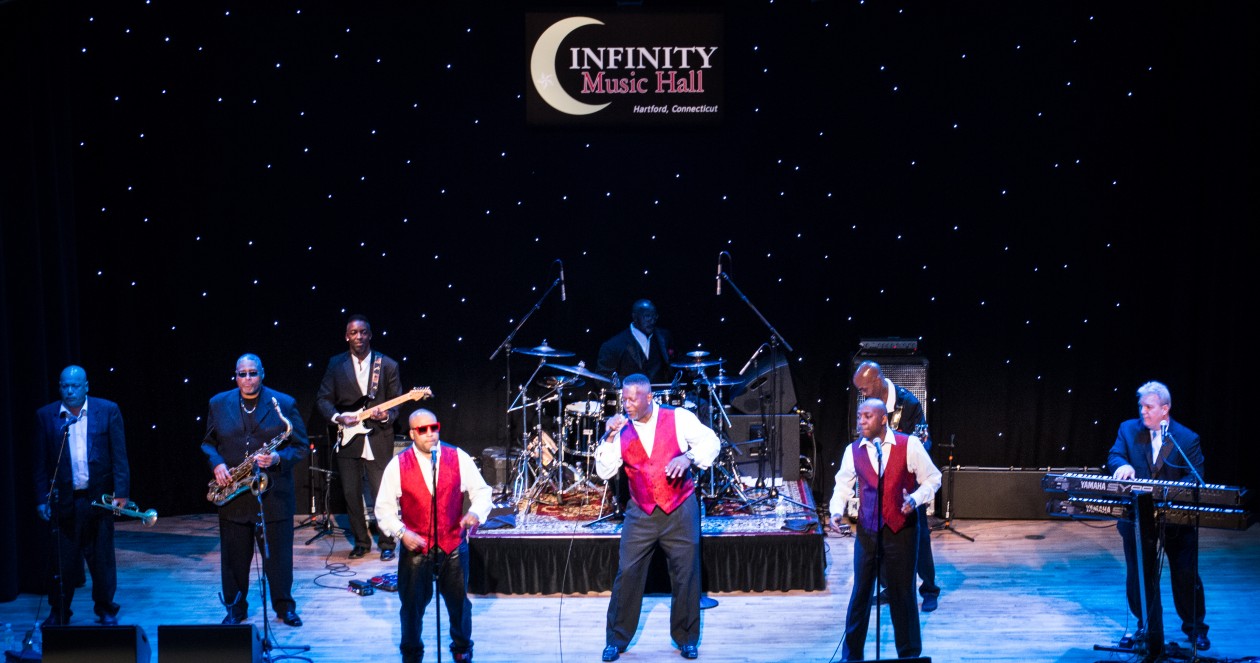 Do you like Stevie Wonder, Earth Wind & Fire and more soulful hits from an incredibly rhythmic era of music? Then, Soul Sound Revue is just for you! Coming to Glen Cove is an energetic nine-piece group performing various Motown style hits from groups in the 60's, 70's and 80's. Almost guaranteed to get you moving, Soul Sound Revue will be sure to transport you to the time where a band's looks were just as important as their sound.
Nonstop to Cairo
Friday, July 28
Nonstop to Cairo is an emerging band from New York, whose blend of hip-hop and funk is not only unique, but sure to bring a lot of energy to Glen Cove. The band has just released their new album "Dabble Heavy" and have toured with bands such as The Wailers, Dirty Heads, Galactic and many others.
The Mark Wood Experience
Friday, August 4
The Mark Wood Experience is bringing a truly, one of a kind show to Glen Cove. The Juilliard-trained violinist offers a refreshing show and will not disappoint. He invented and patented the only self-sustaining violin on Earth and has even raised money to help fund high school music programs all across the US. The Mark Wood Experience (MWE) is accompanied by singer, Laura Kaye; bassist, Paul Ranieri; guitarist, Rob Bambach and drummer, Jason Gianni.
Joe Rock and The All Stars
Friday, August 11
Joe Rock and The All Stars plan on making a ruckus in Glen Cove. The "Core Four" players of the band, are Joe Rock, Lou Carrollo, Gene Linefsky and Mark "The Animal" Mendoza. The show is sure to get the audience engaged as there are opportunities to participate and if you are a fan of rock with a ton of energy, then this is the perfect act to check out.
Milagro
Friday, August 18
Milagro is coming to town to pay tribute to the Santana band. The band has been growing and accurately reproducing Santana's band as well as other Latin rock artists since 2005. This New York-based tribute band is sure to spread the joy of Santana's music to new and old fans alike.
Richie Cannata
Friday, August 25
Richie is one New Yorker who knows music! Studying the clarinet, flute, keyboards, piano and saxophone in his work. He has worked with Billy Joel, Celine Dion, the Beach Boys and Bernie Williams. Not only did Richie go on tour with the Beach Boys, but he also produces. His experience is vast and his talent, unmatched. This Long Island Music Hall of Famer is worth looking out for when he comes to Glen Cove in August!
---
Garvies Point is a proud sponsor of Downtown Sounds. Don't forget to stop by the Garvies Point tent to say hello, learn more, and snag a summer goodie or two!